Car Cards Version <3.2/h2>
Create waybills, car cards and forms for your model railroad - help your layout come to life by setting up operations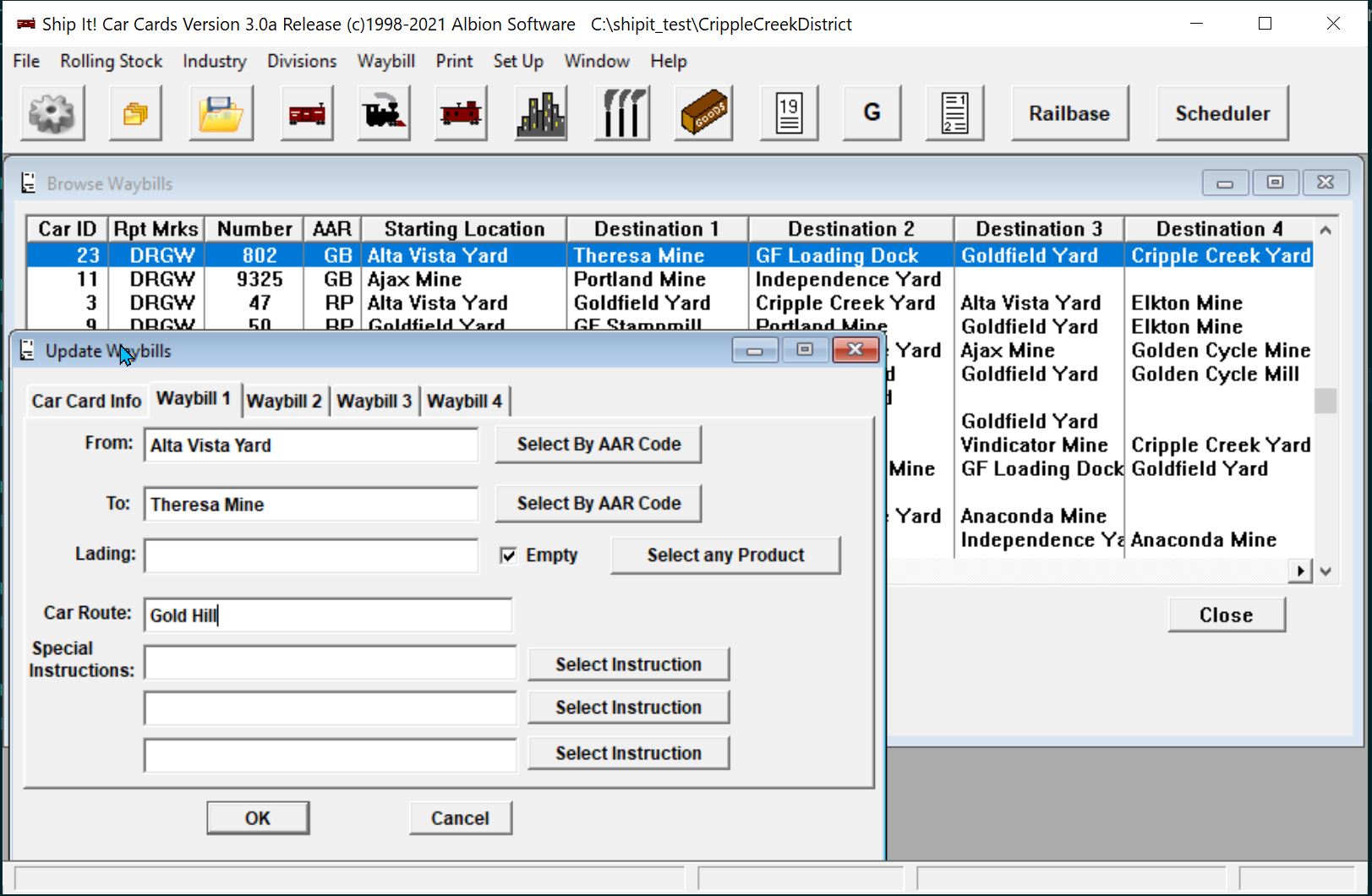 Main Application Frame showing Waybill Browse and data entry form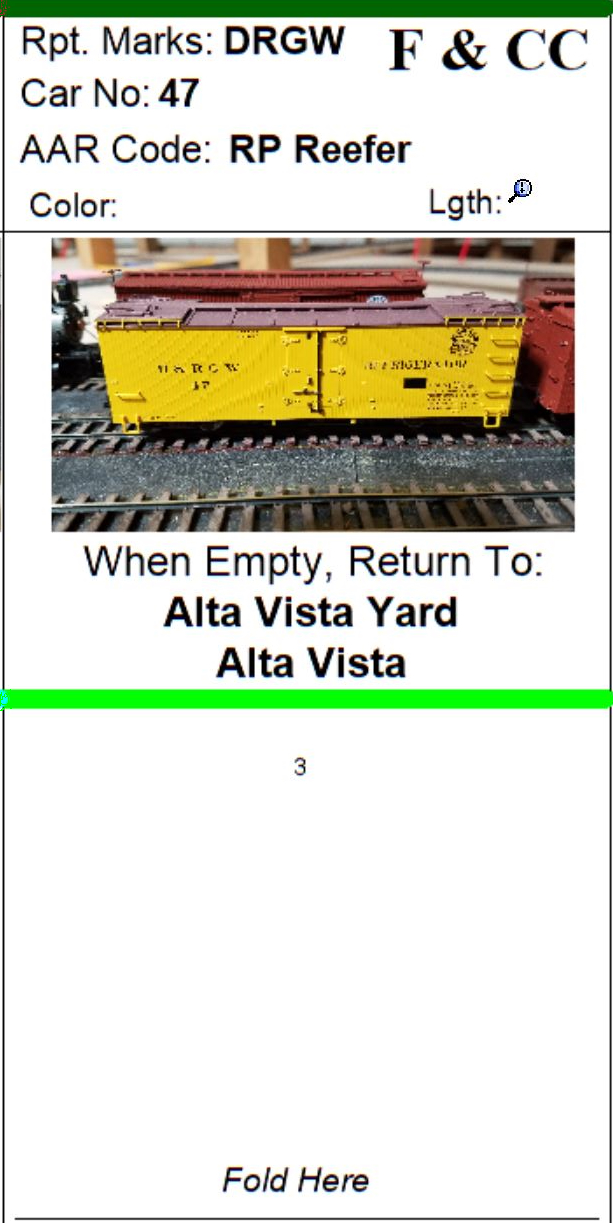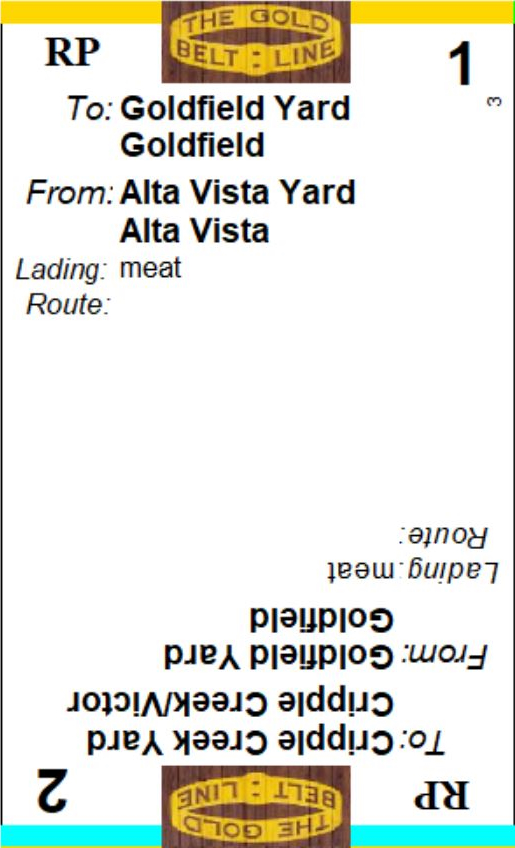 The 2" x 4" vertical car card contains a pocket for the waybill to fit in.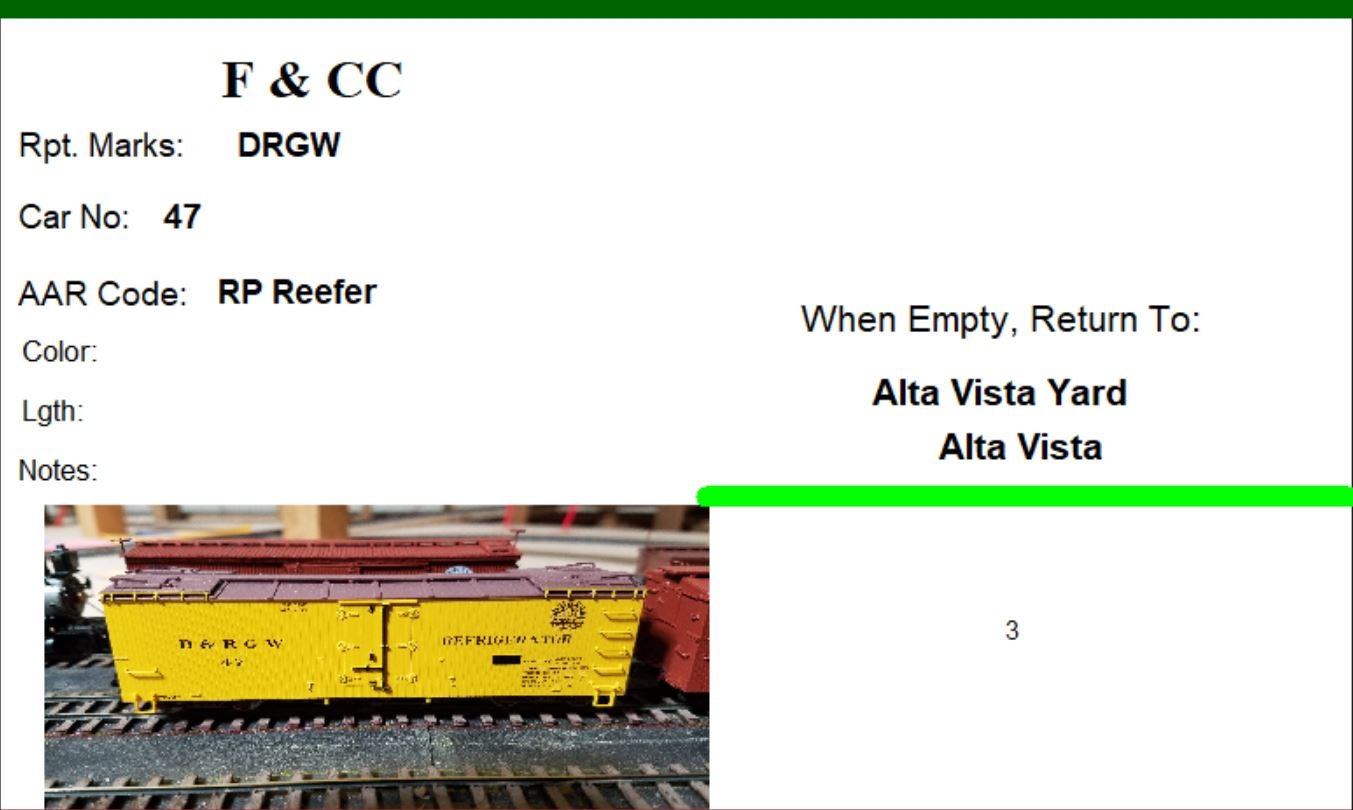 The 3 inch x 5 inch waybills can be attached using a paper clip, or a clear plastic pocket can be attached to the 3x5 card.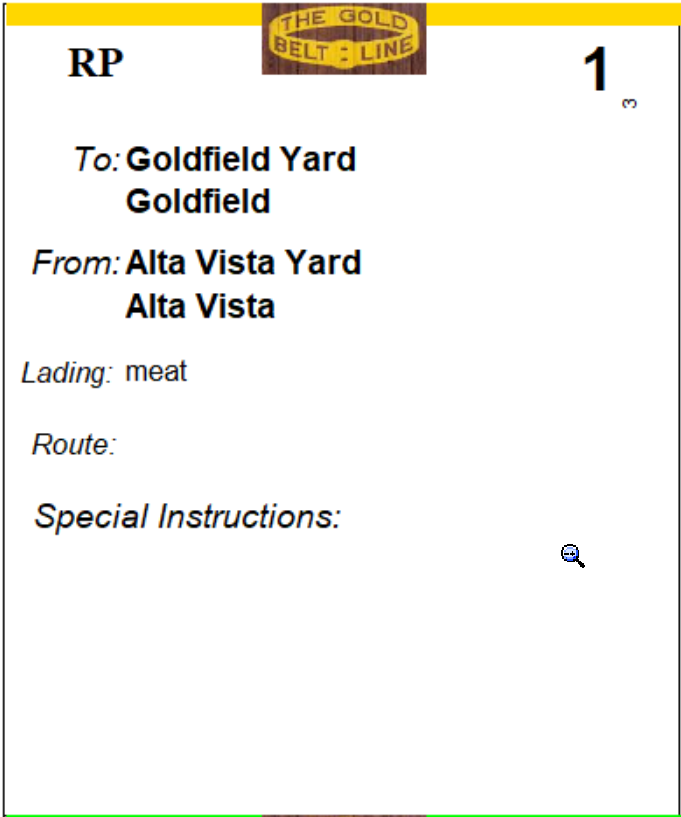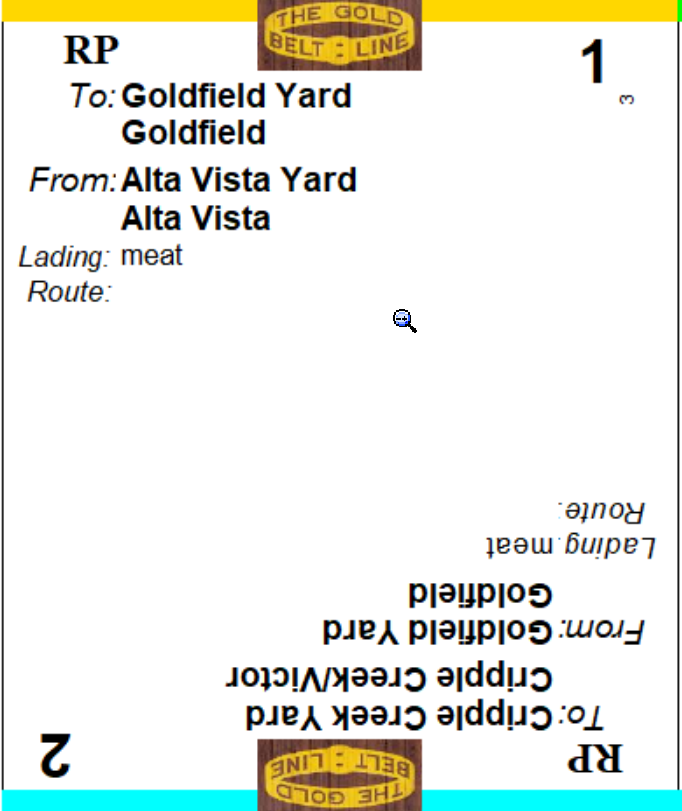 Above images show the 2 position and 4 position waybills for the 3 x 5 car card.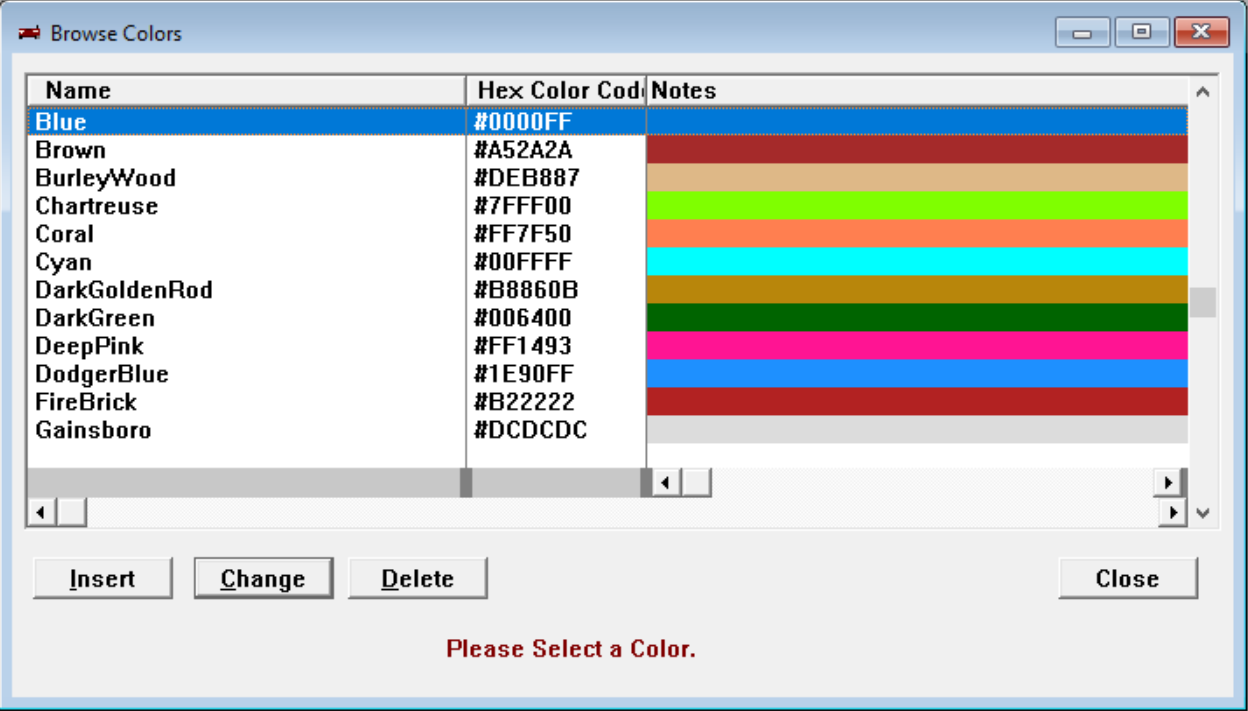 Color Bars have meaning

The color bars on the top of the car cards represent AAR Codes. You can assign a color to each AAR Code to make it easier to sort your cards by AAR Code. The colors on the waybills represent the destination town - each town can have a color assigned to it.

Customize Your Car Cards and Waybills!

You choose what fonts, font styles, sizes, and colors you want (fonts are limited to those on your system). This allows you to be creative and come up with some really nice looking cards. With todays high resolution printers, you can fit much more information on the waybills and cards, like color and length of car, and other car spotting information on the car cards.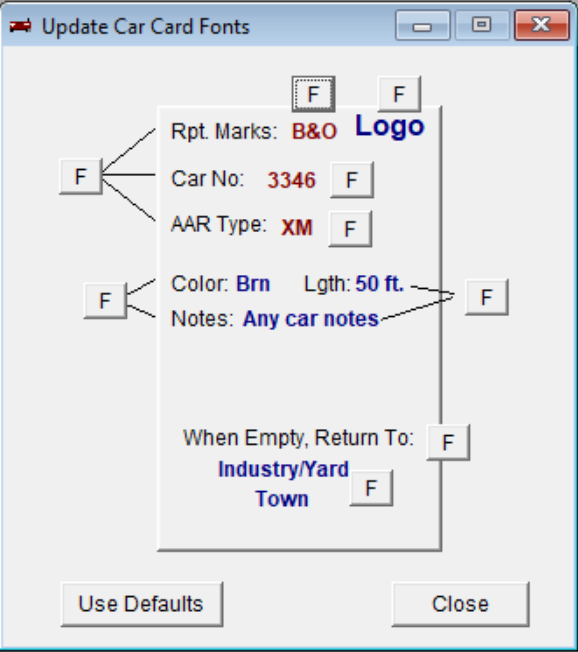 Car Card Font Setup Form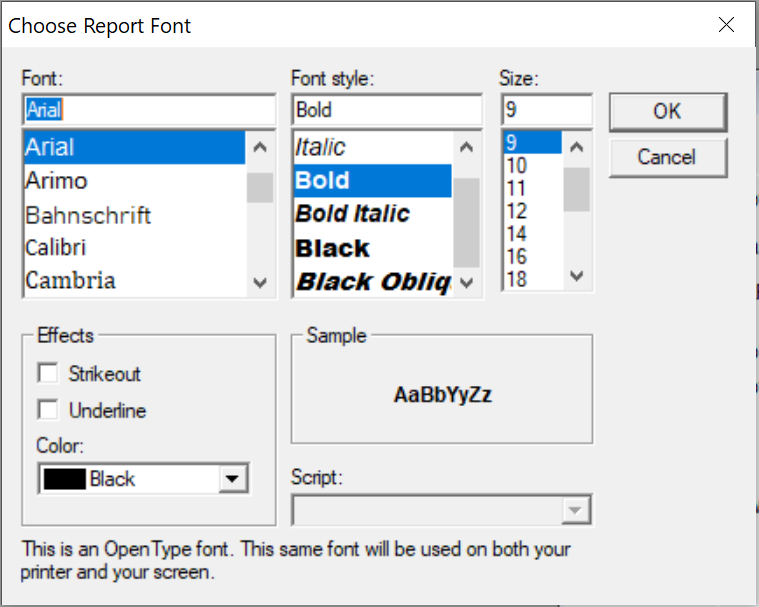 Font selections are saved in the database. A Default button let you go back to preset fonts.

Use Graphic Logos for a Professional Look

You can use text or graphic logos for the heralds on your printouts. Logo graphics can be scanned in from existing timetables or switchlists.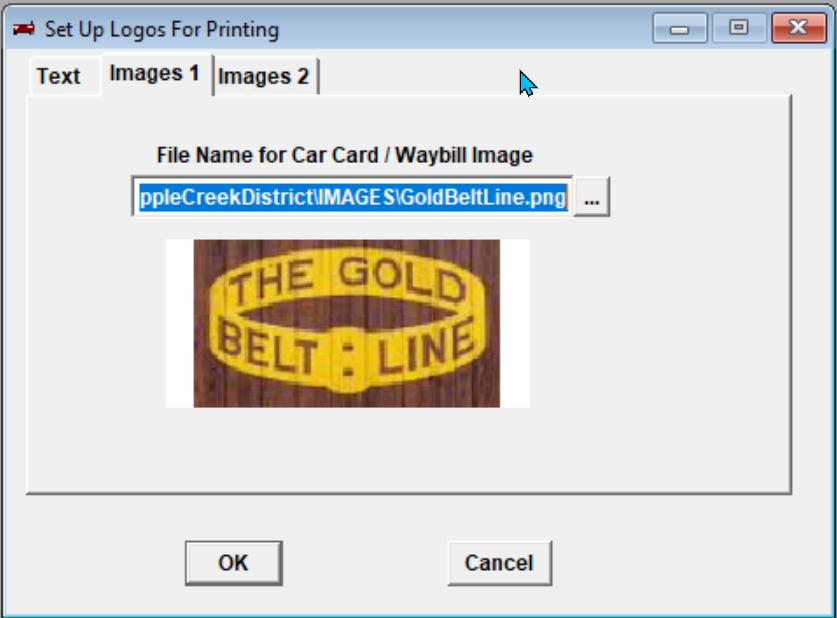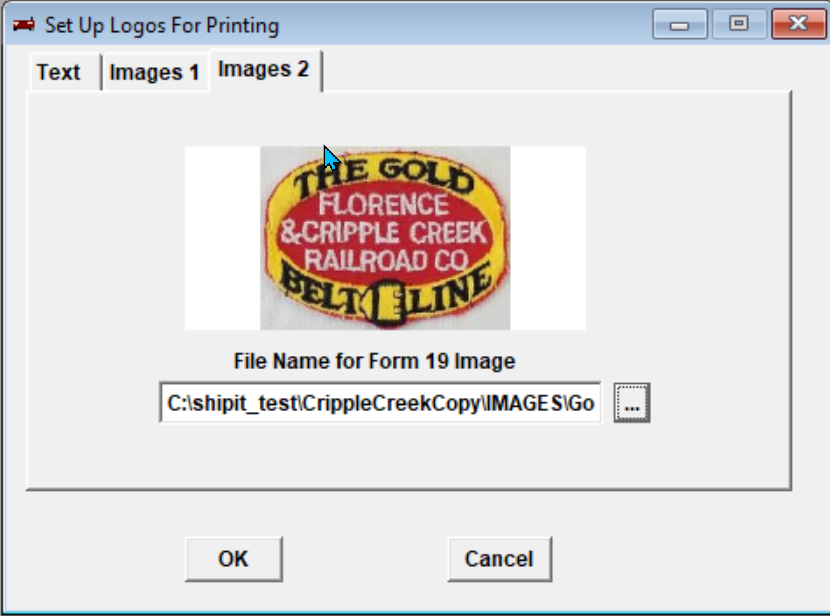 Car Cards Can Display the Actual Car!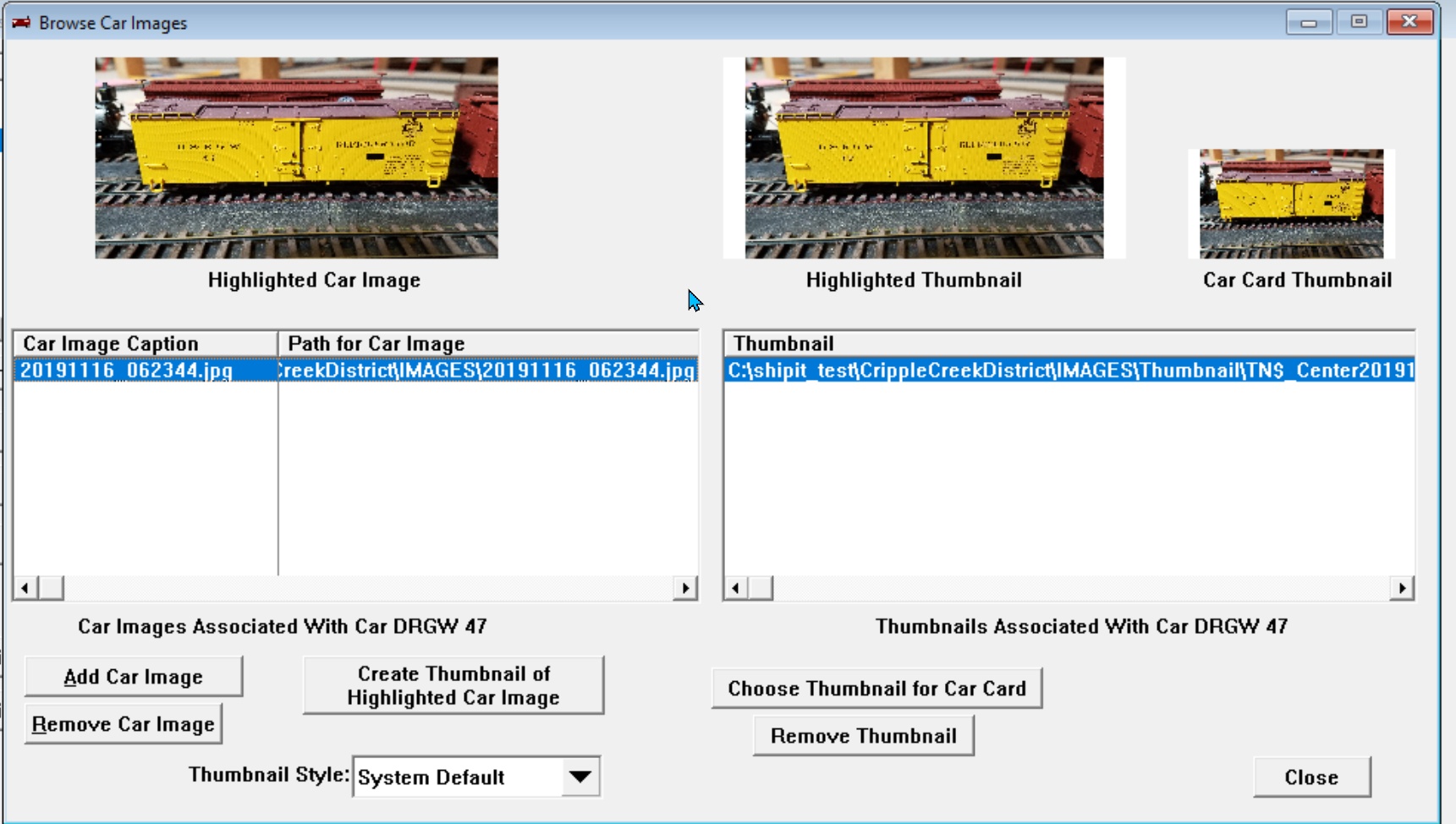 Car Cards makes it easy to create thumbnail images of your rolling stock to display on your car cards. There are several choices of how the image gets stretched (or not) when the aspect ratio of your pictures does not match the car card image control - including center, stretch, clip, and crop. You can experiment and choose the one you think looks best.

Building Your Waybills

The screen shot at the top of this page shows the Update Waybills window. Notice the row of tabs across the top. These are the waybill positions (destinations). In all of these fields a selection list pops up, allowing you to select from previous entries.

Blocking

If you use Ship It! to generate your car movement instead of hand-entering the waybill information, the blocking order is displayed on the waybill.

AAR Mode

You can choose to not assign specific cars to each car card. In AAR Mode, you only assign an AAR Code to each car card. You will still use one car card per car.

AAR mode can make it simpler and easier to have an operating session. No longer will you have to search for a specific car. In this mode you don't care which specific car is moved - only that the correct type of car is moved. So you can still have only hoppers sent to and from the coal mine. Below is what the 2x4 car card looks like when you are in AAR Mode. The 3x5 car card similarly says "Any" for the reporting marks and the car number.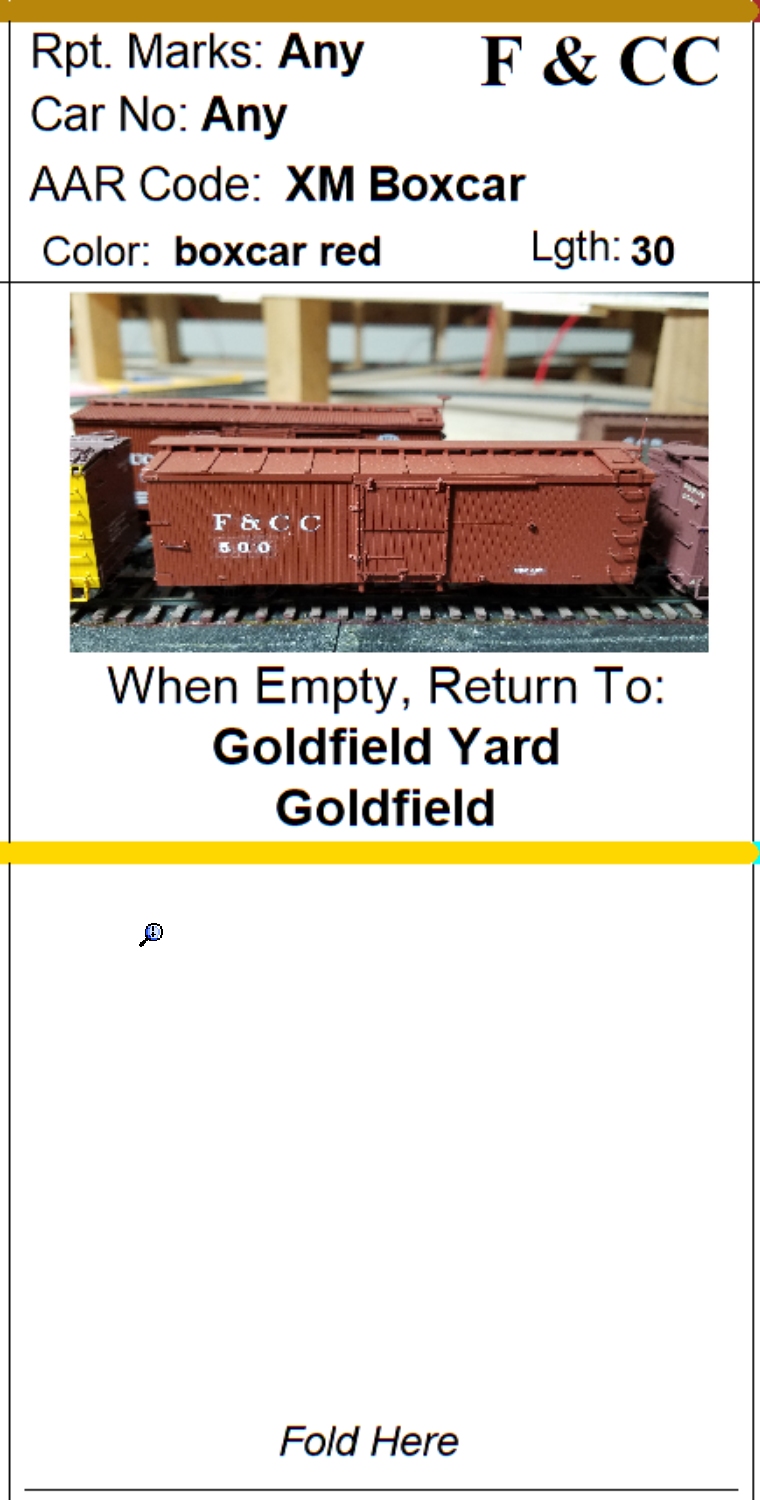 Train Orders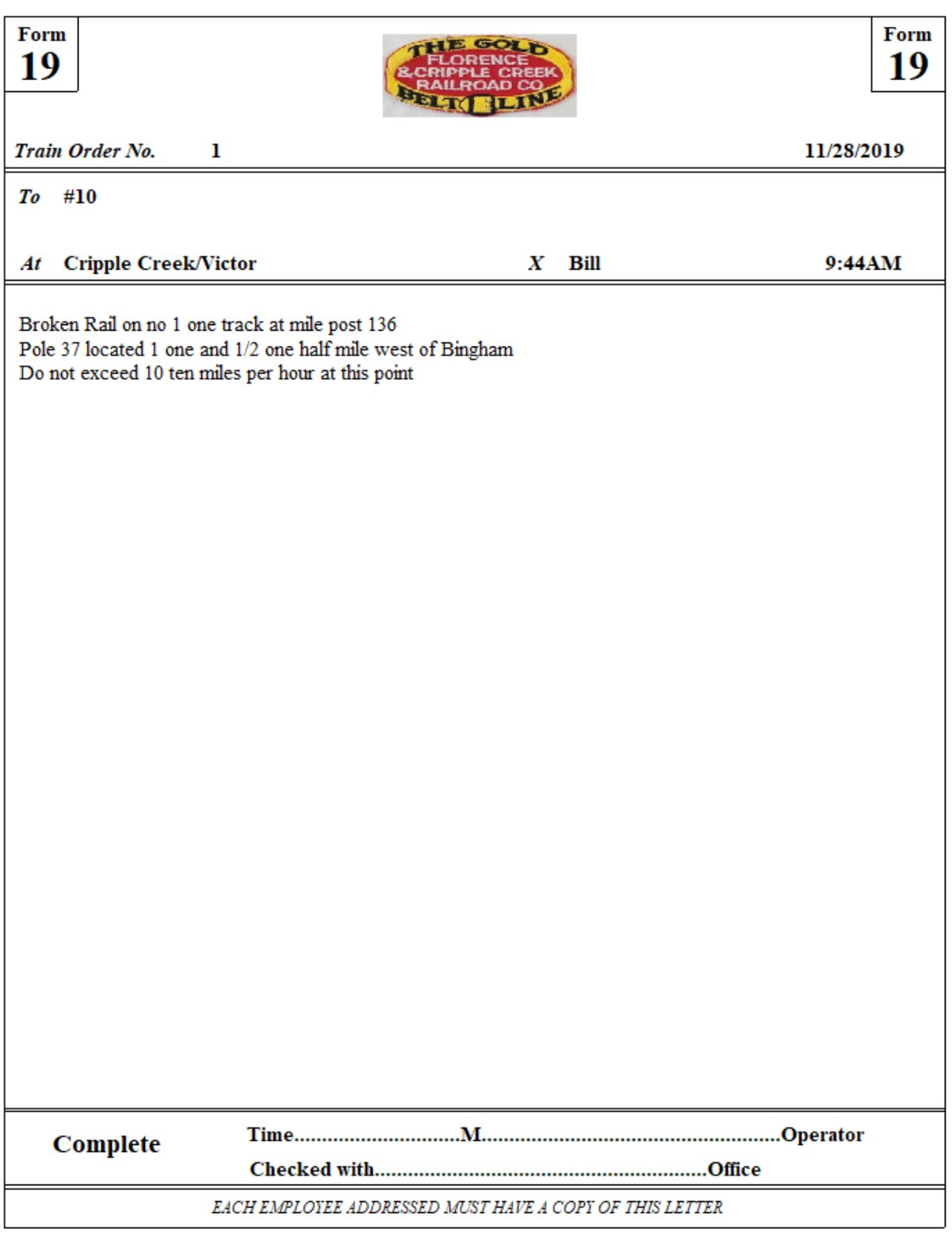 The train order format in Car Cards is based on a Soo Line train order given to me by Bob Wundrock. Thanks, Bob! Train orders can be built and saved in the database. All you do is fill out the information - Ship It! Car Cards takes care of the rest. The text is from an actual B&O train order from July, 1960, loaned to me by Bruce Hullihen. Thanks, Bruce!

Operating Instructions

Complete instructions are given on how to operate your model railroad using car cards, waybills and train orders.

Bibliography

A bibliography is also included with various books and articles listed that will help you operate your model railroad.

Make Your Layout Come Alive With Ship It! Car Cards!
Let Car Cards help you set up operation.
Car Cards can help you in producing car cards, waybills, Form 19's, and Form 31's for your model railroad. Without getting into the complexity of computer-generated traffic, Car Cards enables you to utilize your computer and printer to produce some of the nicest-looking railroad paperwork around. The Form 19's are based on prototypical samples from a variety of railroads. Car Cards gives you the ability to change fonts, add graphical logos, print in color, and design operations the way you want.

What industries, interchanges, and yards on your model railroad ship and receive goods? What products do they ship? What trains are scheduled, and what towns do they stop at? These are just some of the questions you'll be answering as you fill out the database in Car Cards.

Easy To Set Up

This is not computer-generated car movement (like Ship It!) You build your car movement by filling out waybills for each car in an easy to use format. You can also build prototypical-looking train orders to tell your crews when and where to meet other trains and to issue speed restrictions and other items.

Runs Stand-Alone or with Ship It! and Railbase

Car Cards can run by itself or in conjunction with Railbase Professional and Ship It! These three programs form the base of our model railroad software suite. These programs all share the same database. For example, your rolling stock database is visible (and is used by) all three programs. Ship It! uses it to generate car movement. Car Cards can automatically generate a car card for every car in the rolling stock database. Railbase Professional lets you track value, perform inspections, and track modeling standards for all of your cars.

Output Ship It! Generated Car Movement to your Waybills

If you own Ship It!, you can output your car moves to the waybills and switchlists in Car Cards. Whenever you generate a session, waybills are automatically generated. All you need to do is print them out.

Features:

Create car cards and waybills in two different formats - 2" x 4" vertical and 3"x 5" horizontal.

Three modes of operation: Hand-entered waybills with car identification by reporting marks and car number; Hand-entered waybills with car identification by AAR Code only; Ship It! generated car movement.

Car Cards 3.0 Feature List
Ability to download updates via internet until next major version update
Car Images - each car card can have a picture of a car tied to it - this makes it much easier to identify the car.
Colors assigned to AAR Codes. A color can be assigned to each AAR Code. This color gets displayed as a bar at the top of each car card, making it easy to sort out a stack of car cards by AAR Code.
Colors assigned to towns. You can assign a unique color to each town - this gets displayed on the waybill for easy identification of the destination town.
User interface improvements

Sort browse windows by clicking on column header
Filters available on browse windows (limit cars by reporting marks or AAR codes, limit industries by town, limit shippers and consigness by town, industry, or product, etc.)

Scheduler (string diagrams) is built-in and free.
AAR Mode - by choosing not to assign specific cars for each car card, and using just the AAR Code on each car card, you can make it easier and simpler to have an operating session. Ths is perfect for N scale and/or heavily weathered cars, or large crowded yards where it can be difficult to find specific cars.
New report previewer - allows you to print any single page if you wish
Improved Ship It! integration - when car cards has the option turned on to accept car movement from Ship It!, the waybills get all their car movement directly from the Ship it! database. The train gets listed on the waybill, as well as the car number and reporting marks, blocking order, and session number. If you generate 5 sessions of car movement inside Ship It!, when you print your waybills, all of that car movment, from session 1 to session 5 can be printed out - or you can choose to print only a range of sessions. It is even possible to distribute car cards and waybills to some crews, and switchlists from Ship it! to others (or distrubute both). Because the movement matches exactly.
Waybill text can be either center justified or left justified - you can choose this at print time, as it is only a flag within the options window. You can go back and forth between the two styles easily
Multiple modes

Hand keyed waybills with car cards tied to specific cars.
Hand keyed waybills with car cards assigned only to specific AAR Codes (AAR Mode).
Ship It! generated car movement.

Store your databases in a custom location